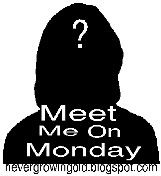 Questions:
1. What do your normally eat for breakfast?
Bagel and Cream Cheese from Duncan Donuts
2. What kind of car do you drive?
green jeep wrangler
3. Have you ever met a famous person(s)?
No
4. What is your favorite ice cream flavor?
I like them all!
5. Which TV Channel do you watch the most?
Bravo
Be sure and go over
here
and sign up for Meet Me On Monday!