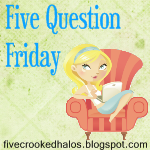 Rules for Five Question Friday: Copy and paste the following questions to your blog post, answer them, then c'mon back to link up! If you don't have a blog but would like to play along, feel free to leave your answers in the comments of this blog, or any blog along the way!
1. Do you collect anything?
Yes, I collect Milk Glass
2. Name 3 celebrities that you find good looking.
Sandra Bullock
Meg Ryan
3. Do you have any scars? If so, what's the story behind it (them?)?
I've had both hips replaced so each hip has a nice long scar.
(sorry if you thought I was going to post a picture of my lovely scars right after those beauties!)
4. What is a food that you like to eat, but others might think it's gross or weird?
Peanut Butter and Potato Chip Sandwiches. Not super weird.
5. Have you ever seen a tornado in real life? Yes from a distance.